In connection with the Philippines' hosting of the Asia-Pacific Economic Cooperation (APEC) summit this year, the DTI Sikat Pinoy National Handicrafts Fair will be showcasing not only products from the country's sixteen regions, but also from some of the APEC member economies.
With the theme Piling-Piling Produktong Pilipino, the handicrafts edition of the 2005 SikatPinoy national trade fairs, we, Ferangeli Guitar Handcrafter, are taking part to exhibit our hand-crafted instruments made from Lapu-lapu City, Cebu! Alongside us are indoor and outdoor furniture; houseware and decor such as linen, lighting fixtures, tabletop accents, etc.; gift and novelty items; and health and wellness products. This retail and order-taking event aims to expand the market presence and open up business opportunities for Filipino SMEs from the regions.
At the same time, special settings and pavilions will feature guest exhibitors from APEC member-economies. The DTI SikatPinoy National Handicrafts Fair is scheduled from May 6 to 10, 2015 (Wednesday to Sunday), at the Megatrade Halls, SM Megamall, Mandaluyong City. The fair
is open from 10:00 am to 9:00 p.m. Admission is FREE.
For more information, contact the DTI-Bureau of Domestic Trade Promotion at telephone number
751-3223, fax number 751-3224, or email bdtp@dti.gov.ph. Please "Like" the Facebook page www.facebook. com/sikatpinoyfairs for updates on SikatPinoy events.
The Poster: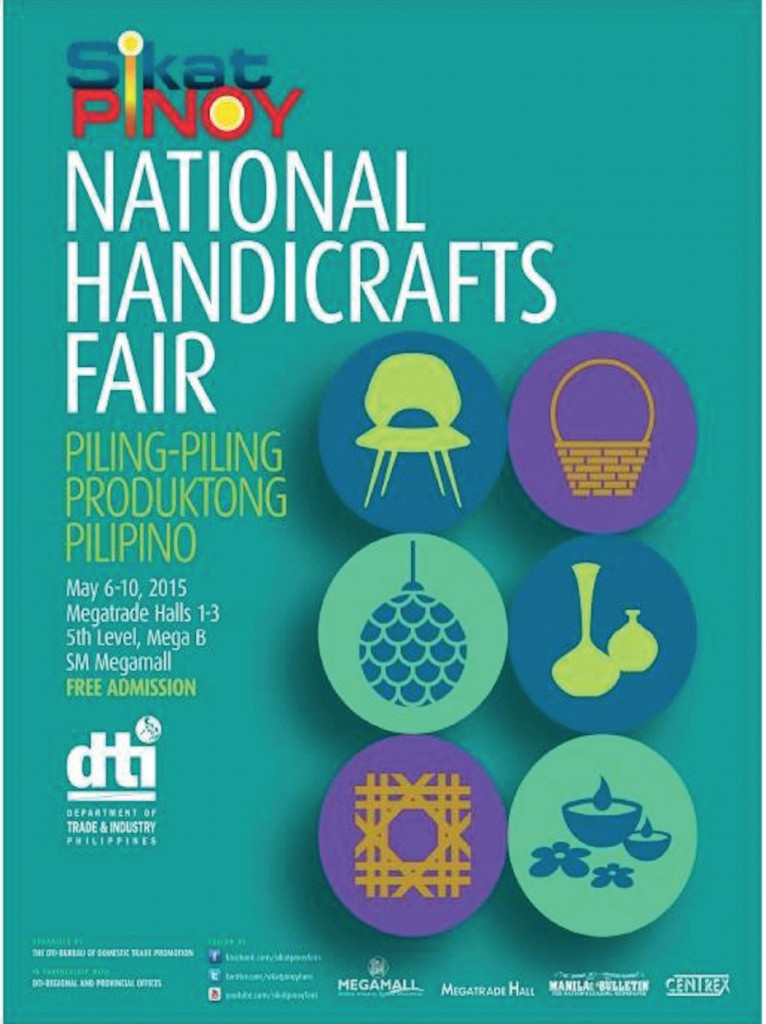 Source: https://www.facebook.com/SikatPinoyFairs
Via: http://www.elifestylemanila.com/smes-from-philippine-regions-apec-economies-showcase-products-in-dti-national-handicrafts-fair/