Hadar, from Israel, a guitar enthusiast who wants to know more about how the instrument is made was looking for people to teach him the craft. When he found out about Ferangeli Guitar Handcrafter, he then came to the shop inquiring if we could teach him how to make his own guitar, and with the future goal of teaching other people, from his homeland, in the art of guitar-making. As he was more than willing to learn we were also more than willing to teach him.
During his stay, he was guided by the Andoy, the master luthier, on to what he'd be doing for the day, or the next succeeding days perhaps. Depending on what he'd be working on, he will be paired with one of our employees for the hands-on.
To document his every progress, he got his camera ready. He took photos and videos of every process and every pieces of his guitar. These documents will serve as his reference when he goes back to Israel and teach other enthusiasts.
Handcrafting doesn't really end up being clean, here's his selfie: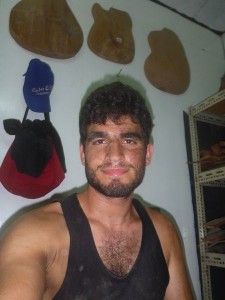 The moment when he finished his instrument, we took a video of him playing and he's very happy with it! Check it out:
The time he left to go back to his hometown, he gave us a copy of his progress photos, that's where we got the photos posted above.